FBackup
9.8.840
FBackup is a powerful free backup software
FBackup, an excellent backup solution for your PC. It provides security protection against threats such WannaCry Ransomware or other worm-like ransom viruses by backing up your data online to Google Drive.
Softland's recent version, FBackup 9, comes with a series of new features that make the software even more interesting:
Option to add backup files from Dropbox
Option to add backup files from Google Drive
You can now track time needed for upload/download when using cloud as source/destination
Use multiple different source types in one backup job (plugin + cloud + local sources in one job)
FBackup is part of a small group of freeware applications that truly work on all the recent and current Windows operation systems starting from Windows 2000 onward. It covers up all the necessary functionalities for an application of this sort (data backup) and brings a plus in the fact that it also works on server editions. FBackup has been designed to be simple, easy to use and reliable. It can backup your data on the fly automatically to every location specified regardless of the destination. Standard ZIP compression is used in the backup processes containing this option, the users can run before and after backup actions and wizards are available for both backup and restoration processes.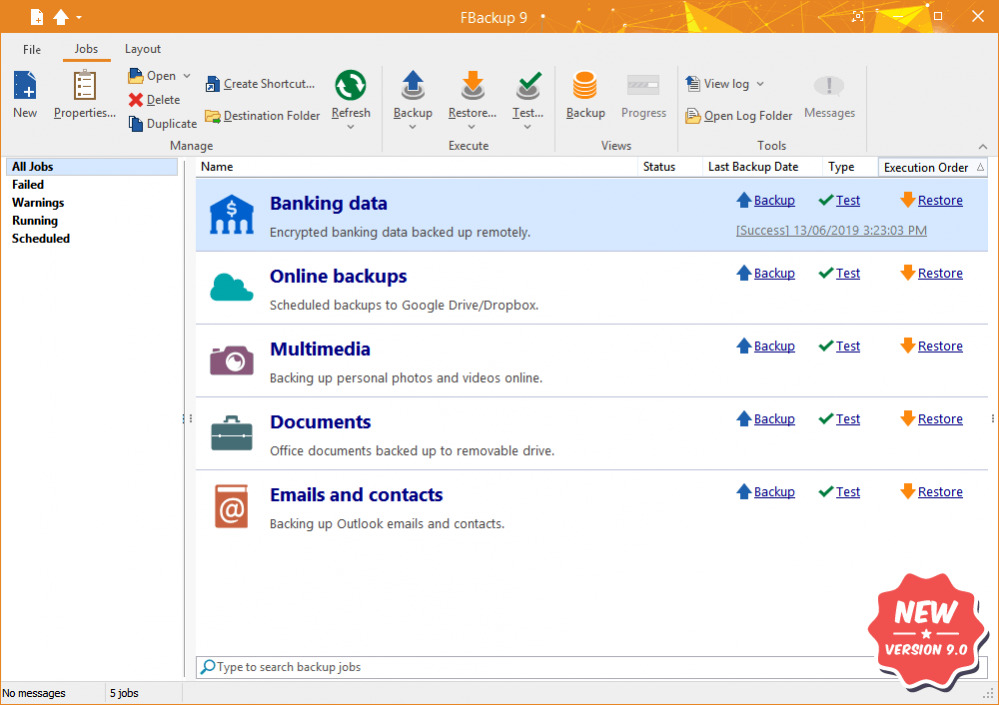 Features
The main interface pops up a Getting Started window which helps beginners in various actions by providing help material such as video and article tutorials for data backup, specific backup types and restorations, additional application shortcuts to help files and plugins. This dialog window can also be disabled if needed when the application starts by unchecking the checkbox in the bottom left.
The top bar contains the most frequent actions used like New, Open, Properties, Views and also advanced options for current backups. These options and functionalities can also be found on the File, View, Actions, Tools and Help tabs above the bar. The GUI is well defined and orientated towards usability and accessibility.
Creating a new backup job is easy. You can do it by either using the New button in the main window upper toolbar, by clicking the File tab -> New Backup button or by using the Backup button in the Getting Started wizard if that window is active. Once the backup wizard is opened, users need to setup a name and a destination for the backup either locally, on an external device or over the network. After clicking Next, the second wizard step allows to add custom files and folders to the backup, select backup plugins like My Documents, My Pictures, Windows Mail, Outlook Express and FBackup configurations and add inclusion or exclusion filters to the backup. Clicking Next brings the backup type and encryption settings. In this step, the full backup type or the mirror type can be selected depending on user preferences and a password can be setup to protect the backup file and everything in it. The last step window contains a backup schedule based on the Windows scheduler, where the backup can be setup to run at certain times on the monthly, weekly or daily basis.
The Advanced mode contains options and functionalities for more experienced users. The jobs can be renamed, their icons can be changed, advanced encryption and compressions options are shown for a more personalized setup and split options are revealed.
Regarding application resources usage, FBackup is also very friendly towards the processor, the hard drive and the RAM. The average speed we managed to capture was about 15-20 MB per second and the RAM memory rarely went over 50 MB.
This package of features and functionalities comes right on the spot for end users who want a simple backup solution on a day to day basis and do not want to worry about losing any information or about security over their backed up data. Giving the fact that this application is also freeware, this is an excellent backup solution for simple backup and restore operations.
Conclusion
FBackup is one of the best free backup software that you can use to protect your important data against threats of any kind (viruses, loss, theft, ...).
RELATED PROGRAMS
Our Recommendations
---
---
---
---